So, you want to know how to cook air fryer frozen French fries in your fantastic air fryer? Well it's simple…follow the method below for yummy French fries.
How do I cook frozen French fries in an air fryer? This is how…
Preheat your air fryer
Spray the basket with cooking spray or tip a tablespoon of cooking oil into the base
Pour your French fries into the basket
Cook at 400F for approximately 20 minutes – making sure you shake the basket half way through
If you follow the air fryer frozen French fries' method, your fries will come out perfectly cooked with a crispy coating and soft center.
I love French fries…more than I would admit to most people. There is something exquisite about the humble French fry that few foods can match…the crunch of the outer layer and the smoothness of the inner potato…absolutely divine.
Some things that you might want to consider if you are not getting the perfect French fry;
What to do if your frozen French fries are not crispy
There are a couple of issues that might be the problem. Firstly, you may have packed the basket too tightly with too many frozen French fries. This means that the hot air is not circulating the food. Secondly, make sure that you have set the temperature correctly. If you have set the temperature correctly, put them back in and cook for a few minutes longer.
Should I preheat my air fryer before I cook frozen French fries in my air fryer?
You should preheat your air fryer…in fact some actually have this function built in. Think about it as if you were using a conventional oven…you don't put your food in a cold oven, right? Preheat your air fryer, your frozen French fries will cook much better. You'll thank me for this.
Straight cut or crinkle cut frozen French fries? Do they cook any differently?
Yes, they do cook differently. The crinkle cut chit has more ridges therefore they are much crunchier when air fried properly.
Do all air fryers cook the same and take the same time?
If you switch between different brands of air fryers, you will notice that some cook quicker and some slower…all at the same temperature. Therefore, get to know your machine. You'll soon be able to judge what works best.
How to make better French fries in an Air fryer
I love them…but you can make them a little more exciting. Consider pre seasoning them before you put them in your air fryer…it seems strange, but they do come out better. Have you considered spicing them. I love nothing better than a crispy French fry sprinkled with a little paprika. The added spice gives them a little kick.
Hopefully this should be enough information to get you cooking the best frozen French fries in your Air fryer.
---
Let me know what you think…is there anything you do that makes your French fries different? How do you cook the perfect French fry in your air fryer?
Share your secrets with us…leave a comment below.
See you soon…Jayne x
---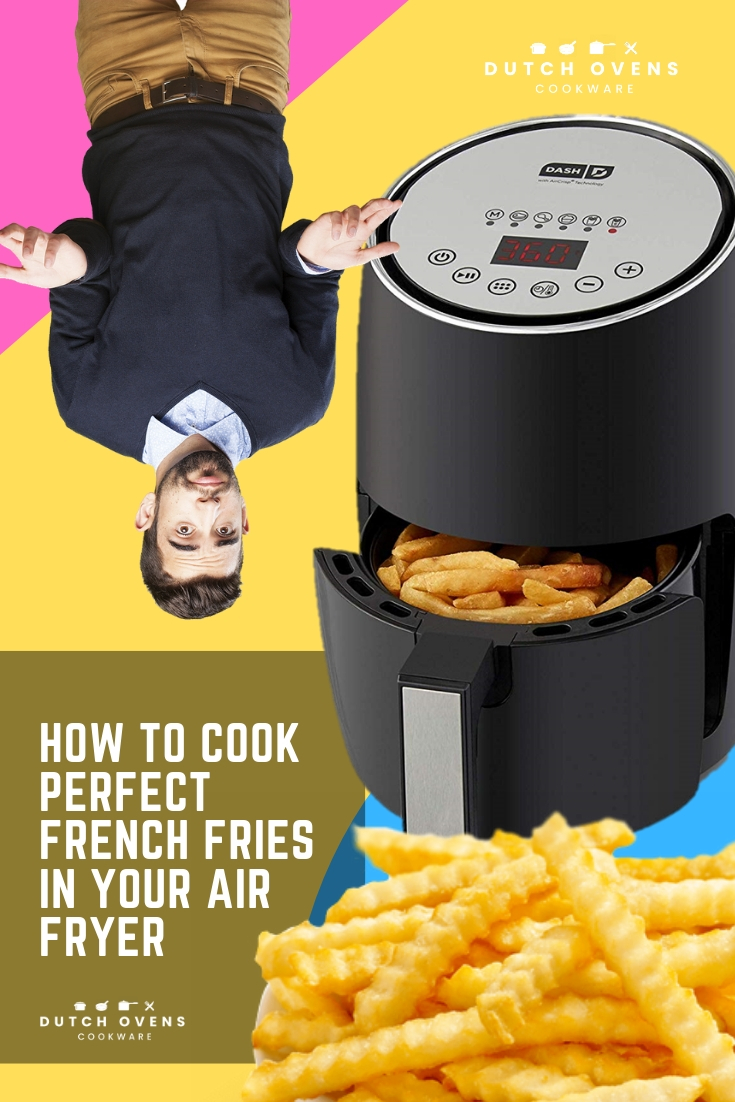 Since you are here…can i ask you a favor?
It would be really nice if you could share this image on social media…it's just a couple of clicks for you but it means the world to me.
Thank you so much…

---
You might be interested in the following posts…
---
Video
---
Citation